Verdion has announced a further new letting at its £500 million multi-modal logistics development in Doncaster, South Yorkshire.
Almost 200 jobs are to be created after supply chain firm Ceva Logistics signed a deal for a new warehouse for a major sports brand.
Construction work has begun on the 215,800 sq. ft. building at the iPort and is due to be completed in February next year.
It will include 205,800 sq. ft. of warehouse space and 10,000 sq. ft. of offices, creating 175 jobs at the site, excluding drivers.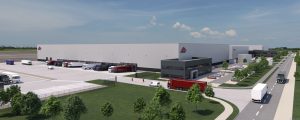 The latest letting follows a deal with Amazon for a 1.3m sq. ft. warehouse on the site, creating 500 new permanent full-time jobs when it opens in summer 2017.
Michael Hughes, chief executive of Verdion, which is developing iPort, said: "This deal follows swiftly on the heels of the double, 1.315m sq. ft. letting to a global retailer. iPort is continuing to attract high-profile occupiers with great covenants and we have strong interest in the rest of the scheme."
Andrew Gent, from letting agent Gent Visick, said: "This is an incredibly positive story. Two million sq. ft. of space at iPort, which was in negotiations pre-Brexit, has completed since, which reflects the quality of the scheme. "We also have another four million sq. ft. still to do."
---
Like the iPort Academy Facebook page or Follow us on Twitter to keep up to date about all the News, Vacancies & Training.